A joint event from WeAreTheCity India and Thadomal Shahani Centre For Entrepreneurs.
'The Communication Jigsaw' – How to speak everyone's language. Presented by Katie Day – author, trainer and motivational speaker.
Do you sometimes talk to clients and colleagues and think, "The lights are on, but there's no-one at home?" We naturally gravitate towards people who 'speak our language'. Most of us will communicate 80% of the time with only 20% of the people we know. Come along to this free WeAreTheCity India seminar and find out how to speak to the other 80%!
Are you driven and motivated by: Fact ● Future ● Feelings ● Form
Do you talk in: Novels ● Paragraphs ● Sentences ● Bullet points
Are you confident you know how to pitch and present to all your customers with ease and elegance
Would you like to be in flow with your work and know what to delegate to others so you can be more productive
Would you like to minimise misunderstandings and maximise on productive and win / win conversations
Katie Day will lead an interactive session, providing headline information so you can begin to recognise where you sit on the communication grid. Learn about yourself, have fun, network and increase your potential for business success!
About Katie Day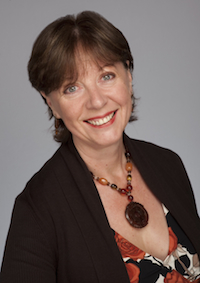 Katie delivers self-development and leadership programmes for women to empower them to evolve into the women they were born to be.  She has worked for The European Bank for Reconstruction and Development running programmes for female staff in 51 countries and headed up the Gender Diversity Task Force.  From there she worked for Business in the Community working with FTSE 250 companies on their gender diversity and corporate social responsibility agendas.  In 2004 Katie set up The High-heeled Leader company for professional women.  Her clients include Morgan Stanley, Credit Suisse, Atkins Global, Citibank, Northern Trust, AXA, Kimberley Clark, Willis, AIG, The UK Ministry of Defence and Prison Service.
A sought-after speaker, Katie has also been a guest lecturer at Warwick Business School on their MBA programme and regularly writes for the Huffington Post, Prowess and Executive Women in Dubai. She is on the Board of Trustees of the Charity Women of Africa and a Director of The Foundation for International Collaboration. Katie was the winner of WEConnect International Global Pitch Competition in Philadelphia in June 2014. Her book, The High-heeled Leader, is available on Amazon.
Thadomal Shahani Centre For Entrepreneurs (TSCFE) is a resource centre which promotes entrepreneurship in India. It provides strategic direction to entrepreneurs and supports their aspirations of business growth. Guidance includes providing expert resources in training, assessments, advisory services, access to funding and the online entrepreneur community.
'Communication Jigsaw' will give guests the opportunity to meet Katie Day, founder of the High Heeled Leader, representatives from TSCFE and WeAreTheCity India committee members and contributors.
EVENT FORMAT
3.30-3.45pm: Arrival and registration
3.45-4.00pm: Welcome, introduction and WeAreTheCity India overview
4.00-5.15pm: Event speaker Katie Day, 'Communication Jigsaw'
5.15-5.25pm: Thadomal Shahani overview
5.25-5.30pm: Thank you and close
 EVENT DETAILS
Date: 11 July, 3.30pm – 5.30pm
Venue: Thadomal Shahani Centre For Entrepreneurs
Address: TSCFE Seminar Hall, 1st Floor, 257 S.V Road, Bandra West, Mumbai 400050 (Near Shroff Eye Hospital)
Email:

[email protected]
 BOOK YOUR PLACE NOW